Carrying a big smile and glowing face does wonder to your personality. Taking care of your skin is a cumbersome task and equally important, so you must take care of your skin. So in this article, let us discuss some core steps of a skin routine which would heal your skin and make you glow.
Wash Face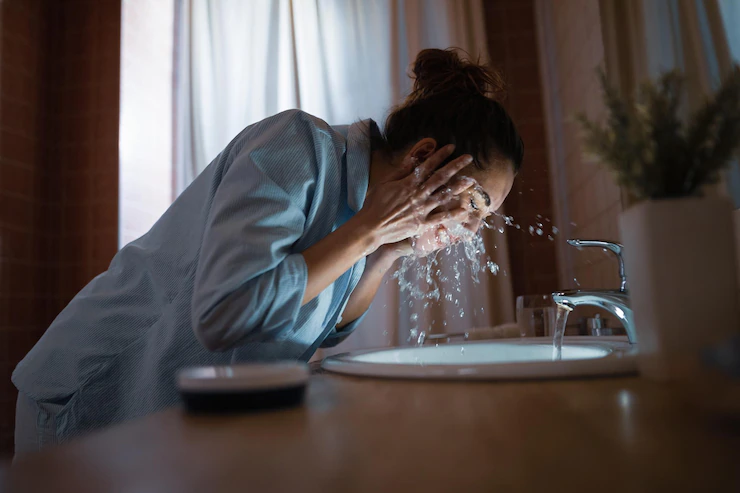 This is the first step of all skin routines; you must ensure that you retain the dirt that is stored on the surface of your skin. This can be removed by applying water directly to your skin; using water on your skin allows the removal of the upper layer of oil and weaken the presence of other acids on your face. Water opens the pores of your face, and wash your face gently. Do not splash water with force, as this won't make much difference. The soft movement of water on the face with gentle rubbing from fingers would make things easier for you.
Using a cotton towel to dry your face and move to the next phase of the skin routine is preferred.
Cleanser
Once you have washed your face, you must move to the other phase of the cleaning, in which you would use a cleanser. The cleanser is a product that contains various fresh elements and focuses on creating foam; these foam bubbles are positively charged and spread all around your face. This positively charged foam attracts dirt from the pores and clears pores. When the pores are removed, so the upper skin is shed, now is the time to heal and take care of the lower skin in a personalized skin care.
Toner
Toners are particular types of elements available in different shades of skin colors; this is most suitable for people with uneven skin colors. People can check their skin colors and then ensure that even skin tone is maintained, making it easier to take care of their tone and skin. You must pay special attention to the brand and quality of toner because it might react with some sensitive skin.
Serum
The toners and cleansers are some unique components that are temporary solutions to remove dirt from your face.
So now is the time for products that would heal your skin, called serum. This serum heals your skin from the inside and makes it easier for skin to get softer. After repeated use for various months, your skin will shine with a flow and remain for a long time. When there is considerable effect after serum usage, you need to customize your skin routine again for the most effective results.
Eye Cream
The most common issue people face nowadays due to the unavailability of proper sleep and too much stress in their lives is dark circles have become very common. So it's suitable to use eye cream in your skin routine because this eye cream works on sensitive skin under your eyes. Regular use and proper sleep cycle would allow you to lighten these dark circles and, along with an appropriate diet, would heal them in no time. You can also use this eye cream before sleeping, so you will find your dark circles lightened when you wake up in the morning.
Moisturizer
Once down with your skin treatment and serum application, this is the time to make your hands and face soft by using softening creams or moisturizers. Rub it on your palms and your face and give it time to dry. When it is dried, you will notice a different glow on your face, secondary benefit of this product is that it would prevent dust and other dirt particles from entering the pores.
Spot Treatment
Acne and another type of pimples are caused due to various reasons, which include hormonal changes, diseases, unhealthy eating habits, and changes in the temperature. So spot treatment is the part of your routine that must be included when you notice too many pimples and acne sprouting. This spot treatment must be performed at night because it might look odd applying a visible cream on your acne in the morning. Firstly you must drink a lot of water, and secondly, you must use an anti-acne cream that has to be placed on your acne to shrink them and purify the particular region.
Apply Vitamins
Vitamins and proteins are an essential part of your body and are responsible for keeping your skin clean. Over consumption of protein results in the accumulation of protein directly in the bloodstream, resulting in acne and pimples. The vitamins are responsible for rejuvenating dead cells, making it easier for users to glow. So using Vitamin C capsules in your skin routine can be a great choice. You can add it to your cleanser to ensure that your skin is cleared and dead skin cells are rejuvenated.
Sunscreen
Face Oil, Sunscreen, and Anti tanning cream are an essential part of the routine because, in summer, sunburn is a prevalent issue. So it would be best if you carried sunscreen in your bag, and whenever you feel that you would be exposed to direct sunlight, it's advisable to place such creams. Prefer buying creams that prevent you from UV radiation; these creams form a reflective layer on your face and don't allow sun rays to come in contact with your soft skin.
Makeup Remover
Some makeup reacts with your skin, so you must check all the products before using them. After washing the makeup, too much acne and pimples can be observed on your face. So a special makeup remover is used by people, which removes the makeup from the surface and clears your face to the pores. It is a cumbersome process, but it is worth its effort.
Conclusion
Maintaining a skin routine involves discipline and dedication; you need to make necessary daily preparations. Do not compromise on the quality of the product because it is a matter of your skin and the body's most sensitive part. You can use antioxidants on your face to prevent fungal infections and other issues faced by people with sensitive and reactive skin. Beauty and skin routine are two different things, so do not apply too many products daily as it would worsen things.